See you in KEY WEST Oct 28-Nov 2! Then, we kick off another season in San Carlos MX Nov 5th! Details, plus a special Fri Nov 14th show at Miramar's Murphy's Bistro AND December's TRIP TO ALAMOS, HERE!
Meet me in Margaritaville, where I'll be performing a song at Key West's Trop Rock Music Awards Thurs Oct 30! Here's where you can catch me all week: Tues, Oct 28 Koz's Greenworld Gallery 12:30PM.....Wed Oct 29 w/ Kelly McGuire, Lighthouse Court 3PM....Thurs Oct 30 Island Dogs 6:30PM, then TRMA Awards 8PM....Sun Nov 2 "A Prayer for Hugo" at Lighthouse Court, 10:30AM, then Blue Heaven 5:15PM w/ Sunny Jim and Kelly McGuire
HELL0 SAN CARLOS, ROCKY PT, BAJA, ALAMOS! Can't wait to kick off Wednesdays in San Carlos on Nov 5th! ALSO, I'll be playing a special Fri Nov 14th show (5:30PM) at a great little spot near Guaymas called Murphy's Bistro. Plus Rocky Point Nov 29, San Felipe Baja CA Nov 30, and colonial Alamos Dec 8 Details about all HERE!
GROUP TRIP TO ALAMOS DEC 7-9
The bus is filling up! Like last time, our trip to Alamos and the gorgeous, 5 star Hacienda de los Santos Resort will sell out. Especially since they've once again offered our group an incredible BUY ONE NIGHT, GET THE 2ND NIGHT FREE Special! Bus departs San Carlos on Sun, Dec 7 (9AM ) from La Palapa Griega, arriving to the resort around 12:30PM. Monday , enjoy breakfast, then your choice of a 10AM or 11AM professionally guided walking tour of colonial Alamos. That night, you'll feast on an incredible buffet dinner at the Hacienda, followed by a Spanish/English concert where I'll be joined by Alamos's Ramon Alcantar. Dinner, show, tour, AND round trip bus transportation (returning to San Carlos Tues Dec 9 after breakfast), can all be reserved through Mark for a special 850 peso per person package price, with rooms booked separately through the Hacienda (MX 01-647-428-0222, from US /Canada toll free 1- 888-777-0164 ) With the Hacienda already filling up, 8 additional rooms at the adjoining Posada Tacubaya are available, at a special rate for our group of $99 per night ($119/night reg price), with full breakfast included! Reserve your room, then email mexicomark@hotmail.com to reserve your r/t transportation, dinner, show and tour package for just 850 pesos!
8 CD COMPLETE SET SPECIAL! All 8 CDs, no repeats, just $50, shipping included! Click HERE to save big w/ this special!
'THE THREE MIRACLES, NOW AVAILABLE IN KINDLE FORMAT TOO!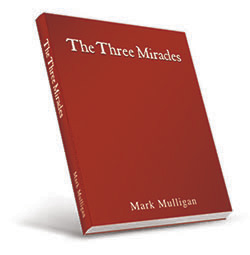 Wow, YOUR stories have been incredible....thanks for sharing yours after reading mine! All proceeds from "The Three Miracles" go to a incredible charity. Learn more about that and order your copy of the book HERE
GROUP TRIP TO GUATEMALA
My wife and I will be participating in an Oct 2015 group trip to Guatemala, working with our designated charity Outreach For World Hope. It's a trip involving Christian service and serving the poor by day, then getting together nightly for a few tunes. Interested in joining us? We've got room for only a dozen more. Email mexicomark@hotmail.com
WANT TO STAY POSTED ON UPCOMING EVENTS? Just insert your email address to be kept up to date!