UPCOMING U.S and MEXICO SHOWS
Fri Sept 30

STUART, FL

"Limin Place" welcomes you to this open to the public house concert w/Sunny Jim and me! Doors open 4:30PM, "Lime & Dine" at 5:30PM w/ chili dogs and guacamole ( BYOB & chair), show 6:30PM. Sugg donation $20, reserve edalpha@bellsouth.net
Sat, Oct 1

TAMPA, FL

Doors open 6PM for this

open to the public 7PM house concert with James "Sunny Jim" White

and me at

an award-winning venue, "The Yard"!Reserve at okarone@gmail.com or (813) 412-1895
Sun, Oct 2

PUNTA GORDA, FL

Songwriter's Island Radio Concert on the Dock Concert w Sunny Jim and yours truly. Doors open 4PM, showtime on the dock 4:30PM, BYOB & chair, sugg donation $20 More info HERE
Sat Oct 8

ROCKY POINT, MX

Join me for my first show ever at

Pink

Cadillac

5:30-8:30PM! NO Cover, unless you 'd like to pick up one of only 20 VIP seats on both sides of the bandstand. For more info and reservations, contact Dave at pinkcad02@yahoo.com
Sun, Oct 9

ROCKY POINT, MX Hobie Cat Regatta

Tues,Oct 11

TUCSON, AZ

Join me for this open to the public, NO COVER, 6:30-8:30PM show at the 49er Country Club!
Fri Oct 14

SAN CARLOS MX

La Palapa Griega 5PM WELCOME BACK SAN CARLOS! Enjoy ALL YOU CAN EAT ribs & chicken just 180 pesos! AND raffle prizes!
Wed Oct 19

SAN CARLOS MX

La Palapa Griega 5PM
Fri Oct 21

PHOENIX, AZ

I LOVE this open to the public house concert venue, lakeside in Ahwatukee! Doors open 5:30PM, w/hosts Rudy and Beth providing food til showtime at 6:30PM Rudy's an amazing guitarist who will perform with me AND, you'll hear me bang out a tune or two on the piano too!Reserve rudybruggeman@hotmail.com
Sat Oct 22

Private event Arizona

Wed Oct 26

SAN CARLOS MX

La Palapa Griega 5PM
Wed Nov 2

SAN CARLOS MX

La Palapa Griega 5PM
Sat Nov 5

Private event Rocky Point MX

Wed Nov 9

SAN CARLOS MX

La Palapa Griega 5PM
Fri Nov 11

COCHORIT BEACH, MX

A BEACH DOWN IN MEXICO! Hop on the bus at San Carlos's La Palapa Griega at 11AM, and join me on a REAL Mexican beach, 45 minutes from San Carlos. Enjoy round trip bus, all the beer, tequila, rum and coke you'd like, and dance in the sand under a shade palapa to music from yours truly AND San Carlos favorites, "The Twins", all for just 500 pesos! Excellent seafood lunch (plus chicken and beef) available starting at just 100 pesos. Bus space limited, reserve ASAP at mexicomark@hotmail.com
Tues Nov 15

San Carlos Community Christian Church

5PM All are welcome! ALL donations split between the church's local mission fund benefiting Guaymas and my January 26-31 Outreach For World Hope trip to serve the severely malnourished in Guatemala
Wed Nov 16

SAN CARLOS MX

La Palapa Griega 5PM
Sat Nov 19

SAN CARLOS MX

SIX AND A HALF MEXICANS "Country on the Beach Concert

Brought to you by Seaside Realty and La Palapa Griega...stay tuned for info!
Wed Nov 23

SAN CARLOS MX

La Palapa Griega 5PM
Tues Nov 29

KINO BAY, MX

BRISAS DEL MAR 5:30PM
Wed Nov 30

SAN CARLOS MX

La Palapa Griega 5PM
Dec 4-6

ALAMOS, MX

5 spots left on the bus for this two night trip to colonial Alamos and the gorgeous, 5 star Hacienda de los Santos Resort sells out every time Not only does the Hacienda offer us an exclusive

2ND NIGHT FREE

special, but separately you can score round trip bus from San Carlos, an incredible Monday night buffet, a romantic show where I'll be joined by Alamos's Ramon Alcantar, and a professionally guided walking tour of the town....all for just

1000 pesos/ person!

First book your room while they last (toll free

1-888-777-0164 or MX 647 428-0222

), then email me to reserve that special separate package.
2017 ADVANCE DATES
Mon, Jan 16

BANAMICHI, MX

Get advance details, including hotel reservations and info about a caravan leaving San Carlos, HERE
2017 dates are already filling up....want to book an event?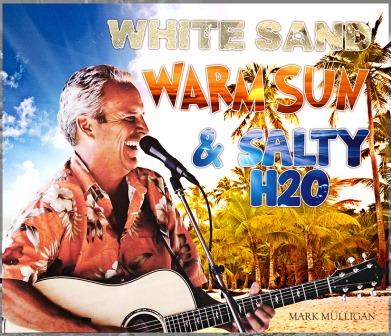 ORDER MARK'S "White Sand, Warm Sun & Salty H20" CD HERE